CalTrout Holiday Gift Guide 2020
Our 2020 holiday gift guide is a one-stop-shop for finding meaningful gifts that support our work to ensure resilient wild fish thrive in healthy waters for a better California. Browse our collection below.
Give the Gift of Membership
| | | |
| --- | --- | --- |
| Sponsor a CalTrout membership for the little fry in your life. | Donate today to help keep California's rivers and streams clean, healthy and fishable. | With an annual gift of $1,000 or more, you'll gain access to exclusive events and updates. |
New CalTrout Gear
Like every product in our Gear Shop, all proceeds go straight to supporting CalTrout's efforts to protect California's native, wild fish and clean, cold waters. Check out our newest additions.
| | | |
| --- | --- | --- |
| This unisex CalTrout logo Champion hoodie has the unrivaled ability to keep you feeling warm and looking cool – all while supporting California's free-flowing waters and wild fish | This long-sleeved unisex tee will keep you rockin' your CalTrout fashion into the cooler months of the year. | This unisex CalTrout logo Champion crewneck sweatshirt may not improve your casting, but it'll make you feel like a champ. |
CalTrout Gear Best Sellers
| | | | |
| --- | --- | --- | --- |
| Rep CalTrout and shade your face from the sun with one of our many hats. | We've got many different t-shirt designs and styles for both men, women, and youth. | Protect your face and neck from the sun, wind, mosquitoes, cold, etc. with our custom design CalTrout neck gaiters. | If you're waking up at Trout Camp or falling asleep at the office, the California Republic mug is there to pick you up – and remind you of what's important in life. |
Gala Trip Providers
If you're looking to gift a holiday trip or purchase new gear, consider supporting our 2020 Gala supporters below.
We're proud to call San Francisco home. With world-class surf fishing right out our front door, and trout and steelhead fishing a drive away, and the world at our fingertips from SFO, San Francisco is an angler's paradise. With a long and rich history of fly fishing including R.L. Winston and Scott Fly Rods original location and Golden Gate Angling & Casting Club, Lost Coast Outfitters is dedicated to keeping San Francisco fishy.
Clearwater Lodge continues a 30-year tradition of excellence by providing luxury accommodations, gourmet meals and world-class guided fly fishing and instruction. Come experience the ultimate wild trout fly fishing adventure in Northern California at Clearwater Lodge.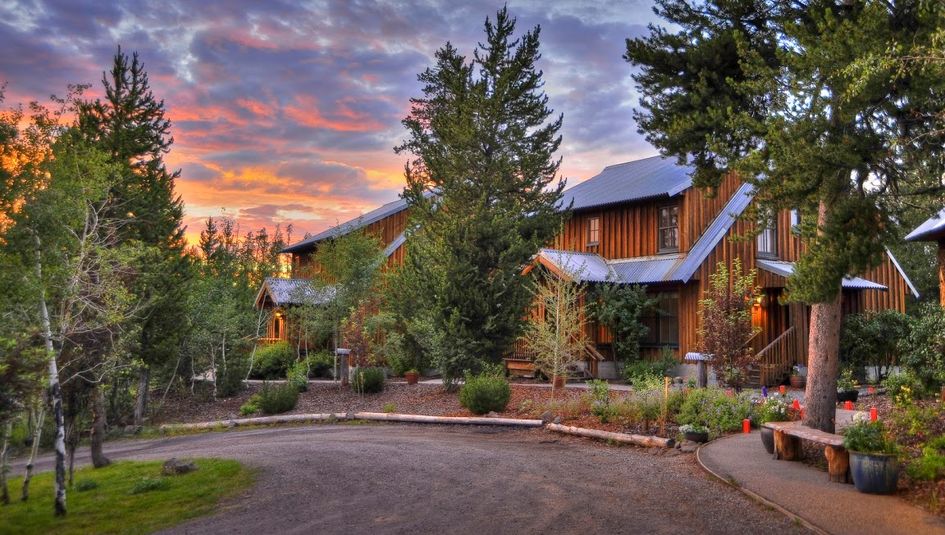 Nelson Ishiyama, the owner of Henry's Fork Lodge, and Amelie Kappes, who has worked alongside Nelson for nearly 20 years, are the heart and soul of the lodge. Amelie is likely to answer the phone when you call to book your stay, and one or both of them is likely to be on-site during your visit to make sure you feel personally welcomed and that you're guaranteed an unforgettable time.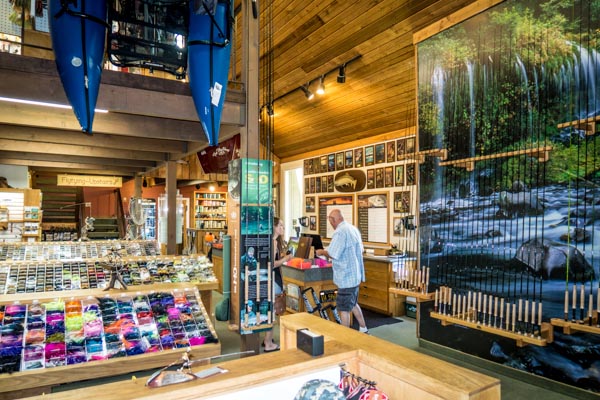 The Fly Shop® has partnered with CalTrout to help fund their efforts with a significant portion of our domestic and international travel sales. Now, every time a CalTrout member makes a reservation with The Fly Shop® to Alaska, Argentina, the Bahamas, Brazil, Kamchatka, Mexico, Mongolia, or any of our other worldwide freshwater or saltwater fly fishing destinations (or even with one of our local guides) we'll be making a donation to CalTrout equal to 2% of the cost of the package. Please mention CalTrout when booking. These donations are a reflection of The Fly Shop's 40-year history of commitment to angling conservation and belief that the health of our sport and of the planet is umbilically linked to our rivers, streams, and oceans.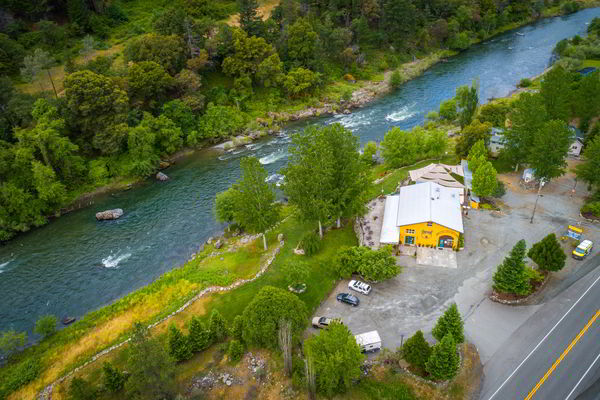 "If you've never been to this part of the world, I'd like to welcome you to a uniquely beautiful part of the planet. My wife, Julia, and I call this our home, and so can you! We offer rental cottages, a yurt, rv sites, and provide facilities for groups and events in a supremely relaxing outdoor environment." – Don
Don Ellis has owned and managed the Strawhouse Resorts since 1998. Open since May 2000, Don and Julia continue to work hard side-by-side to bring much value to the community. They have helped the businesses in the area by not only increasing the visitors to Big Flat and surrounding areas, but also by collaborating with many groups to join in making the community of Big Flat and surrounding areas a real destination Hot Spot.
Steelhead on the Spey Guide Service provides guided and instructional fly fishing trips for steelhead in Northern California using two handed (spey) rods. We fish for steelhead in the traditional down and across method, targeting the most aggressive fish in the river. Whether you are a beginner or an avid steelheader, Steelhead on the Spey guide service provides you a day of fun steelheading.
People are drawn to fly fishing for many different reasons. One of those being that it's not about the numbers or size of the fish but how it's accomplished. Unfortunately cutting corners seems to have found its way into the fly fishing world. We see the vast majority of guides doing whatever it takes to get numbers of fish for clients. That is except the one thing guides should do. Teach. Show people how to cast. How to "read" the water. Answer questions. You will not see the indicator (bobber) when you come out with Sierra Fly Fisher. You will learn how to cast a dry fly. If taking a step back and learning traditional fly fishing appeals to you then give us a call.
AC Fly fishing is Northern California's premier fly fishing guide service. Based in Redding, California, AC Fly Fishing offers high quality, personalized fly fishing experiences. All trips are led by our team of expert guides who are trained to work with clients of all ages and skill levels—from beginner to advanced. We ensure each client understands the basics of fly fishing so they can become a more competent, knowledgeable, and skilled fly angler. We take pride in exceeding each client's expectations, ensuring an unforgettable and fun day on the water. Call us today to create your own customizable trip!
Baiocchi's Troutfitters is the premiere guide service for the Northern Sierra, and has become recognized as the leader in guest services and instruction. Stalking trout in the shallows of legendary lakes and prowling the banks of productive rivers is my specialty. Beginners can gain insight and knowledge from my simple, yet effective approach to fly fishing, and for the accomplished expert I can eliminate countless hours of prospecting new waters, while teaching new and advanced techniques. Experience counts, I'm a native Northern Californian who has been a serious fly angler since 1972, and an independent fly fishing guide since 1997. Baiocchi's Troutfitters guide service has been well received by my guests, check out the testimonials page, services offered, and the legendary destinations to wet a line. No matter the venue, you'll walk away a better angler through my instruction, patience, and knowledge.
StokeVentures Fly Fishing is a fully equipped, licensed, and bonded guide service offering wade surf fishing sessions from Monterey Bay to San Francisco Bay. Evan is experienced and knowledgeable about the local waters and is excited to pass his knowledge along to you!
Based in Redding, CA. Gateway to northern California's finest wild trout streams and steelhead rivers. We are a full service, year around, fly fishing guide service specializing in private instruction and guiding for steelhead and wild trout. We encourage anglers of all ability levels or experience – from first time beginner anglers and kids to advanced seasoned anglers who appreciate the value of a quality fly fishing guide. We offer both drift boat trips and walk & wade trips on the best local rivers this region has to offer. We are capable of arranging large group trips for your party with other top local independent fishing guides who I'm proud to work with. Please feel free to contact me if you have any questions or inquiries regarding our fly fishing guide service in Northern California. I look forward to sharing my passion with you – Let's Go Fishing!
From lakes and rivers of Texas, E. Tennessee & N. Georgia., bayous of SW Louisiana or the inshore/offshore salt and freshwater of Florida, Ragan grew up chasing fish. Specializing in guided fly fishing trips on: the Lower Yuba, Feather and Sacramento Rivers, the Foothill Lakes and the California delta. Trout, steelhead, shad, smallmouth, largemouth, spotted, and striped bass. Book a trip today.